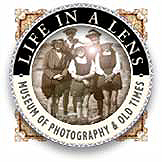 The Life in a Lens museum based in Matlock Bath presents the history of popular photography in a wonderful Victorian setting. As well as exhibition rooms covering themes such as 'The Seaside' and 'The Darkroom', the Museum exhibits over 500 cameras of all kinds including examples of toy and novelty cameras.
Opening Times
November and December: Weekends only until Boxing day
11.00am – 5.00pm
Boxing Day to early January: Open most days
11.00am – 5.00pm
The rest of January until May: Saturday, Sunday and Monday
11.00am – 5.00pm
Summer: Open Saturday, Sunday, Monday, Wednesday and Thursday
11.00pm – 5.30pm
Note that that the museum  entrance is now through The Victorian Teashop.
Contact
Tel: 01629 583325
Web: www.lifeinalensmuseum.co.uk
Matlock Accommodation
Looking for accommodation in the Matlock area?
Selected bed and breakfasts near Matlock
Hotels near Matlock