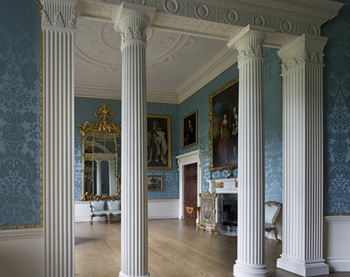 Kedleston Hall is a half hour drive from Matlock Bath and although less well known than Chatsworth House, it's certainly not to be overlooked if you're staying in the area and country houses are your thing.
The mansion, in neo-classical style, was designed almost entirely by the famous architect, Robert Adam and completed in 1765. The interiors in particular make this a special place to visit for students of design. An extensive collection of paintings, sculpture and furniture is also waiting to be discovered by visitors.
As well as the house itself, other attractions at Kedleston include the Eastern Museum and the parkland and landscaped gardens which surround the house.
Location
Kedleston Hall is approximately 10 miles south of Matlock Bath near Quarndon in Derbyshire. For sat-nav users, the post code is DE22 5JH.
Contact
Telephone: 01332 842191
Web: Kedleston Hall web site
Matlock Accommodation
Looking for accommodation in the Matlock area?
Selected bed and breakfasts near Matlock
Hotels near Matlock