Matlock Farm Park is located 6 miles from Matlock Bath and forms part of a 600 acre working farm with a number of activities, particularly suited to families looking for things to do in the area.
Pigs, sheep, goats and donkeys are all well represented at Matlock Farm Park but it's also home to a number of less familar animals such as llamas, alpacas and a very impressive (and very friendly) fully grown Red Deer Stag. There's an extensive collection of poultry and smaller domestic animals too.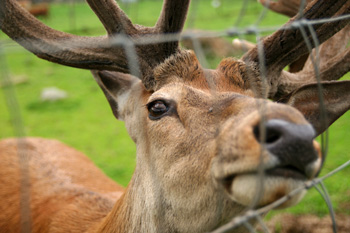 One of the great attractions of the Farm Park is how close you can get to the animals – in fact it's positively encouraged. A pot of feed is included in the entry fee and it's pretty clear that the animals make the connection between visitors and a snack – the goats are particularly keen!
An on site tea room provides some respite for parents while the kids can be let loose in the playground area.
Pony trekking is also available but booking is essential for this activity.
Location
Matlock Farm Park is located off Jagger Lane approximately 6 miles North of Matlock Bath in Derbyshire (see adjacent map).
For sat-nav users, the post code is DE4 5LH.
Contact
Telephone: 01246 590200
Web: Matlock Farm Park
Matlock Accommodation
Looking for accommodation in the Matlock area?
Selected bed and breakfasts near Matlock
Hotels near Matlock